I wrote this blog for my official Go Fund Me Campaign page.
Lety's Story
When I moved to California in 2002 for my first post-college REAL job, I excitedly bought a brand new Dodge Neon.  It was a fabulous car, and I named her Michelle after my new best friend.  And it did an amazing job of protecting me about 2 years later when a woman cut me off on a country road, I slammed on my brakes, and proceeded to flip end over end and land in a ditch.  RIP Michelle the Car.
I got lucky when I went to the Honda dealership because I was assisted by a new sales guy who didn't think to actually check my credit before selling me a new Civic.  This was also a great car.  Even though my credit was lousy, I could afford it.  Unfortunately, I was in the midst of a very serious bout of very poorly treated depression… a time during which even simple tasks like setting up an automatic payment or opening the envelopes containing letters threatening to repossess my car were more than I could handle.  One morning in January 2006 I woke up and she was just gone.
Embarrassed and humbled, I was taken by a friend to a used car dealership where I bought my dark green 1995 Toyota Camry.  She was definitely a step down, but I made my payments faithfully and she became mine on August 8, 2007.
The Camry received no name… in some ways she has always been a reminder of my weakness, my utter failure, the lowest point of my depression, my shameful lesson in fiscal responsibility.  Despite this purpose and her namelessness, Camry has prevailed.  Despite all odds, this Gift of Redemption has persevered.  Despite all the many things I couldn't afford to fix, she has kept me safe and her wheels keep rolling for 9½ years .  Let me tell you about her life with me:
1. A few weeks after we were brought together, we were traveling at about 5mph through a parking lot.  A massive truck was parked in a compact parking spot, blocking the view between myself and a car on the other side of it.  We couldn't see each other so the other driver backed into me, crushing the corner of the car.
Side note: there is a reason parking spots are marked "compact!!!"  Big vehicles come with big responsibility!
2. A couple of years after I got her, Camry developed a slow power steering fluid leak.  I have attempted to have it fixed a couple of times, but it always comes back.  No big deal, but I've probably spent a few hundred dollars on ATF over the years.
3. There was about 2 years when the driver's side window motor was broken… I held it up with Monster Tape until it was finally fixed.
4. The driver's side lock does not work, so it can only be unlocked from the passenger's side.  It was fixed for awhile, but then it quit again.
When I moved to San Jose in 2012, the plan was to replace her within 6 months.  But it turned out that my increased salary wasn't worth nearly as much in the city as I thought it would be, so we continue to forge ahead through many small trials…
5.  Both front door handles broke off, so you have to dig your fingers under the levers to open the doors.


6. The antenna broke, so now we only get one radio station.  Thank God for those cassette tape adaptor things you can use to run sound from other devices through car speakers!
7.  The middle light in the dashboard is out, so I'm never quite sure how fast I'm going at night.
8.  Sometimes the lights on the gear shift work, sometimes they don't.  If she doesn't move, she's in neutral.
9.  One of the backseat seat belts is stuck.
10.  The side mirror was knocked off by the post in my carport (another shout out to Monster Tape!).  This means that she can't be washed in a car wash, and since I live in an apartment building with no access to outside water which doesn't matter since CA is in a drought and washing your car in a driveway is illegal right now anyway… we pray for rain.

11.  The door over the gas tank got ripped off.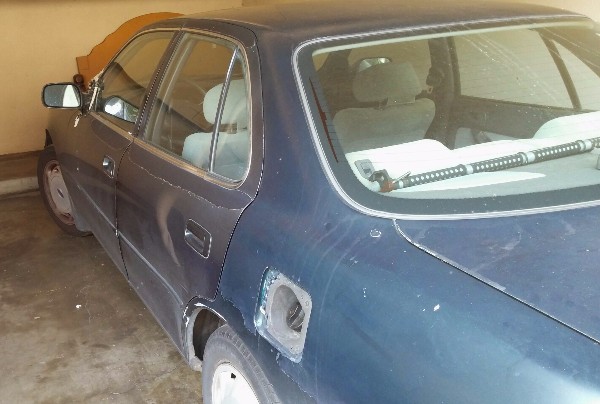 12.  The trunk leaks when we get that rain we pray for.


13.  The windshield washer fluid reservoir has a giant hole, so while the wipers work… we pray for rain some more.
14.  Not to mention the classic 1990's Camry paint job that looks like a peeling sunburn!
15.  My left high beam doesn't work, and no matter how much I twist the little knob the headlights refuse to raise.  I get about 20 feet of visibility on a dark night.
But despite all of these little things, this car just keeps going and going and going.  She commutes 66 miles a day with me at California freeway speeds with no trouble.  Nothing major has ever broken down.  She lives life to the fullest.  And she was finally named Lety:
Little
Engine
That
YOLO'd (In case you don't know what YOLO means, Wikipedia does here.)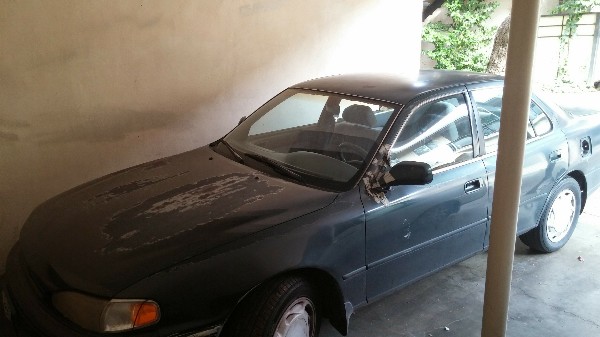 Lety is my reminder that what God gives might not be what I want, but it is always enough.  And God's gifts are lasting.  Like manna to the Israelites I might be bored of her, she might humble me and remind me of what I lack, but she is also constant daily proof that God is my provider.  He gives good gifts to His children, gifts that are good quality and meet the need and do not bring hardship or pain or stress.  I am so proud of this little car!!
In November I discovered that Lety had an oil leak.  When I asked the guy at Speedy Lube where the leak was, he opened the hood and waved his arms over the whole engine.  "Here," he said.  The sealant inside the engine is breaking down, causing oil to leak through all the joints and seams in the metal.  He told me not to put any more money than absolutely necessary into this car, and to start saving for a new one.  Turns out Speedy Lube offers free top-offs between oil changes, so I am a frequent customer every week or two.  The guys there are awesome!
Believing for a Miracle Car
Lety and I entered 2015 knowing that it would be our last year together.  And I firmly believed in my heart that God would give me a car.  Yet, we are almost 6 months in, and there is no car.   She's not getting any younger, and my faith is wavering… enough that I'm ready to pull an Abraham and fix this situation on my own.
I estimate that next Monday (maybe Tuesday) we will hit the 300,000 mile mark.  Really, this was my stubborn goal.  When we reach this, I will be ready to let her go.
In a few weeks I'll be starting a new job that will require a lot of driving and probably transporting clients in my car.  Lety is no longer a safe or professionally presentable vessel for this task.
In the last week I realized that in mid-June I'll be blessed with a little extra money.  Between that and the $1000 that California will give me to junk Lety, I should have about $5000.  This is a very good start, about half of what I plan to spend on a new used car.  I was going to be satisfied with that, knowing that upcoming changes in my income will cover a car payment.
My wish is for a car like this 2010 Honda Civic  that costs about $10,500.
My greater desire is to pay cash for a car, and use the new income to finally start paying off student loans.
This morning I woke up with a thought in my mind.  I don't wake up like this very often, but when I do I know it's God.  Usually these thoughts are for other people, but today it was for me: "Why do you keep settling?  I promised you a car.  Ask, and you shall receive.  GoFundMe." (Literally, He said GoFundMe!)
I have a personal philosophy that if someone says "no" then I'm no worse off than I started, but I will never hear "yes" if I don't ask.  So I always ask.  This tends to be a bit annoying to my supervisors, but eventually they realize I don't necessarily expect to get what I want and stop cringing whenever they see me.  But somehow… Why is it so hard to ask God???  Along the same lines… Why is it so easy to ask God, then sit back, do nothing, and take no responsibility when nothing happens?
Then I went to church and heard a sermon about believing for miracles.  Again I heard, "Ask."  In Mark 2, Jesus did the forgiving and the healing, but the dudes who wanted it did the heavy lifting and the carrying and the tearing up of the roof…
So here is me, asking.  Stepping out.  Believing that God's word is true, that He will keep His promises of blessing.  That I will receive a Miracle Car.
I ask you to believe with me.  Donate, share… most of all, pray.  The beautiful thing about blessings is that they are boomerangs… they never return empty-handed.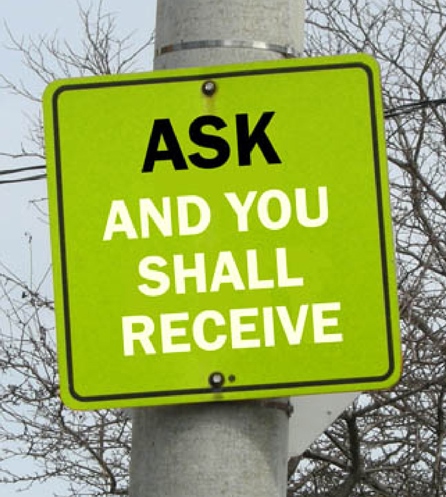 The GoFundMe Campaign site is here: http://www.gofundme.com/salliesmiraclecar
NOTE: While GoFundMe was the best fundraising site that my research uncovered for this type of purpose, there are two disadvantages: 1) Donors are not charged any fees, but there is a small processing deduction for all donations, and 2) Paypal is not an option.  If you would prefer to contribute through PayPal, there is no fee for either of us if you select "Send Money to FRIENDS OR FAMILY" and deduct money through your checking account.  (There is a small fee if you use a debit or credit card and/or select "Pay for Goods or Services.")  Paypal donations can be sent to sallie.rupe@gmail.com